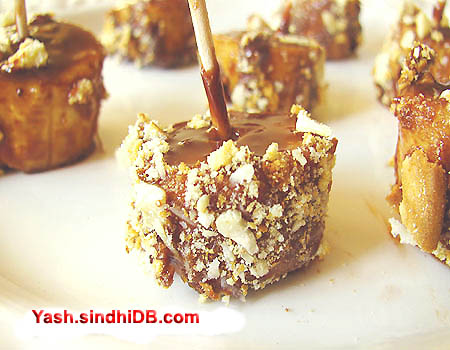 Banana sticks
Ingredients
* 2 Ripe but firm bananas
* 1/2 cup of melted chocolate (We used combo of Dairy milk and Hershey's )
* 2-3 Marie or any other digestive biscuits
* Some finely crushed walnuts, almonds etc
* Some tooth picks
Method:
* In a double boiler, melt the chocolate.Keep the bowl with melted chocolate immersed in hot water till used. Lick some if you can't resist, go ahead (but watch out the heat)
* Peel and slice bananas into around 1 inch pieces.But be careful with knife.
* Crush the almonds/walnuts (or both) and set aside.
* Crush the biscuits and keep these aside in a plate.
* Now pick each piece of banana with a toothpick, roll it in melted chocolate till it is covered with heavenly brown layer , roll it in crushed biscuits, then roll it again (lots of rolling going on..hmmmm) on the bed of crushed dry fruits. Don't worry about the mess..Moms know best how to clear it..No?.
* Chill the brown delights in refrigerator for some time.